Nibblies. Mingling. Cocktails. Connections.
Register today for the Official Unofficial Congress 2022 Party
Don't miss this by-RSVP-only event, co-hosted by

With cocktails to consume, conversation to enjoy and connections to be made, this is officially the
you-need-to-be-there party of 2022!
WHEN:   Monday November 7th   |   6 PM - 9 PM
WHERE:  Vagabondo Restobar   |   310 Front Street West
(Right across the street from the Metro Toronto Convention Centre)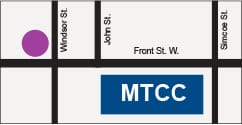 Register today – we'll see you there!